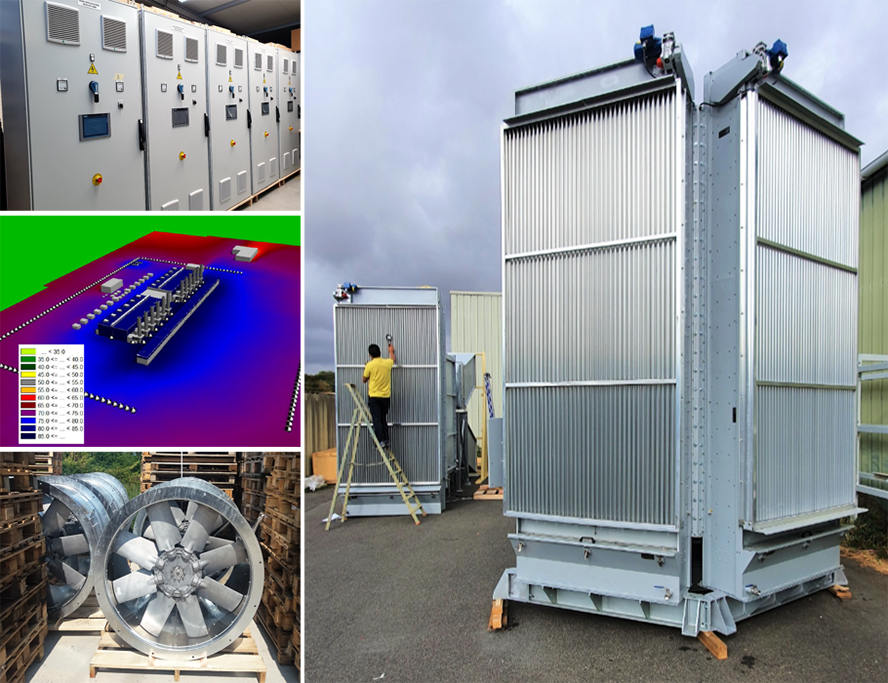 SAI has supplied in 2020 an important contract including an acoustic study, a complex CFD study and the supply of ventilation units for a large power station equipped with 12 gas engine (17,6 MW each) on a LNG project in Middle East.
The 12 independent engine halls are equipped with 24 generator side ventilation units and 12 auxiliary side ventilation units. Passive air extraction is ensured by marine grade aluminium acoustic louvers installed on the building roof.
Each ventilation unit is equipped with rotary Oil Bath Filters. In total, we delivered 60 Oil Bath Filters fitted with weather louvers made by marine grade aluminum. In order to meet the acoustic objectives, the ventilation units are equipped with baffle-type silencers. We also integrated specific orientation flow devices on the ventilation unit downstream the axial fans to meet the CFD objectives.
On generator side, the ventilation units are skid-mounted. They can be quickly dismantled and handled in case of generator maintenance. These ventilation units also incorporate fire & smoke motorized dampers. The whole set is suitable for marine environment and ATEX rated.
To operate the whole system, SAI has also provided control panels with PLC & touchscreen. On each generator side ventilation units, we have 2 fans running & 1 fan stand-by.
Total ventilation airflow for this 12 engines power plant is exceeding 2,5 millions cubic meter per hour! With its unique expertise in acoustics, aeraulics and air filtration, SAI has been able to provide a tailor-made solution to meet this Oil & Gas customer expectations in term of high-quality standards.