SAI solutions for offshore, coastal areas, humid environments and marine application
Vane separators
Vane separators are used to remove water droplets from the airflow to protect equipment from corrosion or filters clogging. They can be installed either on ventilation systems or on combustion air intakes. It's common to find these moisture separators suitable for horizontal flow being used on static combustion air intake filter casing for gas turbine, compressor & engines.
Droplet separator profile when assembled into units forms a vane type separator suitable for horizontal flow. The streamlined profiles ensure low levels of pressure drop combined with high separation efficiencies.
The profiles are available in various materials, the most popular being talcum reinforced polypropylene. Synthetic droplet separator profile is designed for air intakes as a first stage for moisture and droplet removal. It's also used after cooling coils to remove residual moisture. The profile is suitable for application at face velocities between 3 and 5 m/s.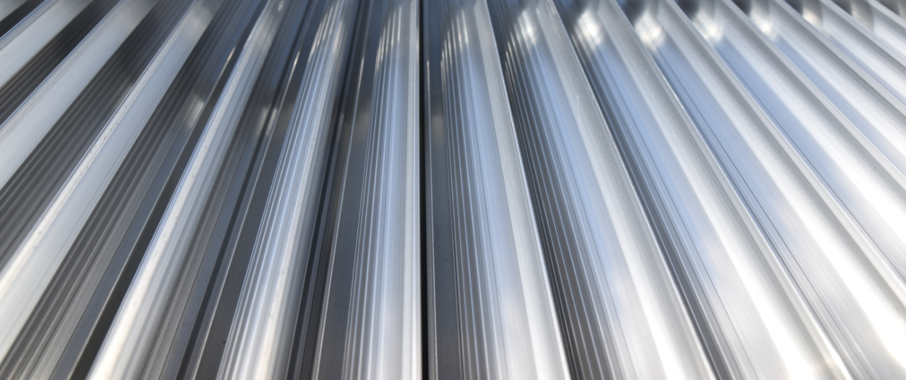 With over 25 years experience in the supply of air treament solutions, SAI has delivered hundreds of weather louvers with droplet separators integrating a wide range of options:
Mounting on bulkhead, insertion through bulkhead or double flanged construction
Multi-stages separators available for enhanced performances
Equipped with secondary filtration stages downstream the vane separator
Various drainage options including slot drainage, ANSI flanged stub pipe…
Trace heating available in ATEX execution
Jalousie hatch
Drift eliminators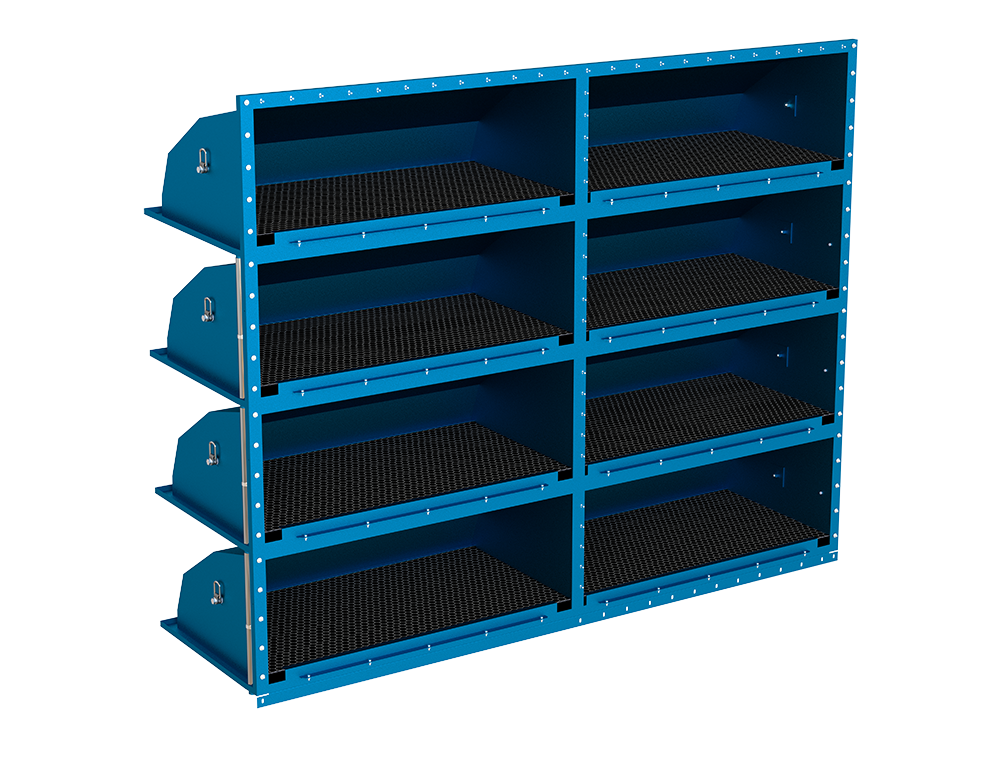 Drift eliminators are used to remove large water droplets from air inlet airflows. Most of the time, this water removal technology is installed inside of weather hoods covering large combustion air intake filter casing.
It's common to find these moisture separators suitable for vertical flows used on self-cleaning combustion air intake filter casing for gas turbine. When needed, these drift eliminators can be equipped with a secondary moisture elimination stage also located inside of the weather hoods.
This technology can easily be applied to a smaller scale to protect any air filter casing from rain and moisture.
Drift eliminators are manufactured from thermo-formed and suitably corrugated sheets of high quality PVC. Their geometrical form is designed to create channels where the droplets carried by the air flow are very efficiently trapped while maintaining low pressure drop. The use of a strong coloration of the PVC ensures a UV resistance in accordance with the guidelines of the industry. Moreover eliminators made in PVC have the advantage of maximum adherence (compared to other plastic materials) of the water to its surface: this feature increases the efficiency of droplet capture. SAI DES130 drift eliminator has a panel of 130 mm high and two airflow direction changes which is the most common format for drift eliminators.
Multiple stage moisture eliminator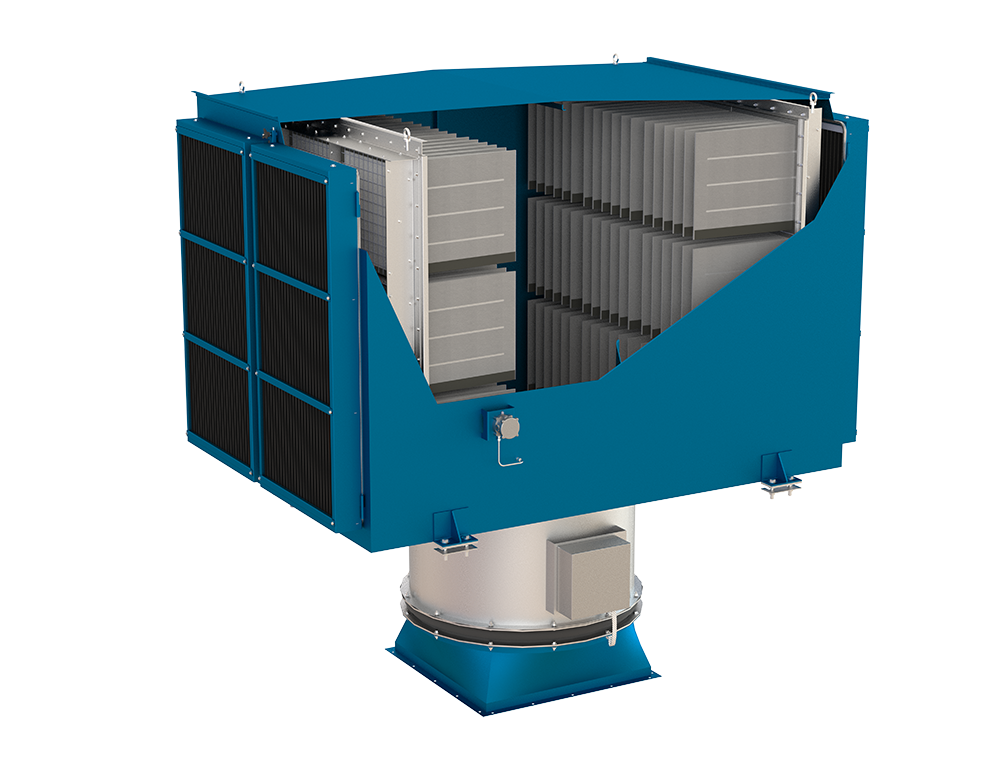 These filters are used to efficiently remove rain, sea mist. Thanks to the multiple stage arrangement, our moisture eliminator are combined with either coalescing pre-filters or bag type filters to achieve efficiencies to client specifications.
Final efficieny can range from Iso Coarse 70% panel filter up to ePM10 70%, ePM2,5 65% and ePM1 50% bag filters depending on the application & the customer requirement.
By combining the filtration into one package there can be a considerable space saving and easier maintenance access. The filter holding frames are manufactured to provide a very cost effective method of refurbishing an existing system. For example to replace a current single stage intake system with a multi stage intake system offering a higher level of protection in the same space.
SAI has an extensive experience in integrating these multi stage moisture eliminator on various application and mainly for offshore application.. Over the last years, we carried-out several retrofit projects to replace faulty moisture removal solution with SAI Multiple stage moisture eliminator design. Our scope of supply was including the moisture eliminators, filter casing and even the ATEX-rated fan and instrumentation.
Heated mist eliminator
SAI high-efficiency droplet separators are designed for demanding applications such as offshore, oil & gas, energy and marine application, where reliability, easy installation and special design play an important role. Droplet separators are designed to restrict the passage of moisture, salt spray, rainwater and airborne aerosol particles into HVAC systems, engine room intakes, compressors & gas turbine air intakes.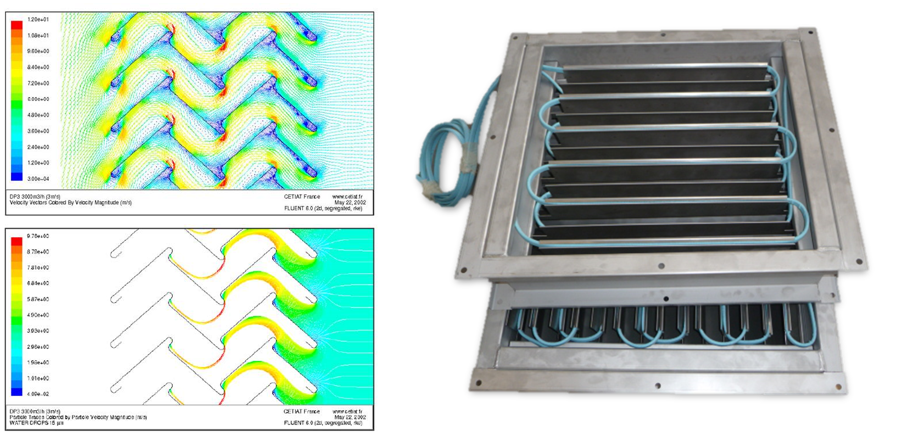 Droplet separators can be fitted with heating elements. The regulated temperature is subject to the surrounding conditions. The actual surface temperature of the heated vanes depends on many variables such as the size of the separator, wind circumstances, face velocity, air temperature and relative humidity. Electrical heating capacities is about 3 kW/m2, depending on these conditions. The cable heating does not prevent icing in the most severe conditions, but it will help defrost the ice when the icing conditions have passed. The mist separator design can be adjusted to fit to the customers' requirements:
Various frame options: flange only in the front, only in the back, front & back, without a flange
Upstream or downstream drainage with various positions & connection design available
Possibility to add secondary filtration stage
ATEX certified components
Heating capacity ~ 3 kW/m2