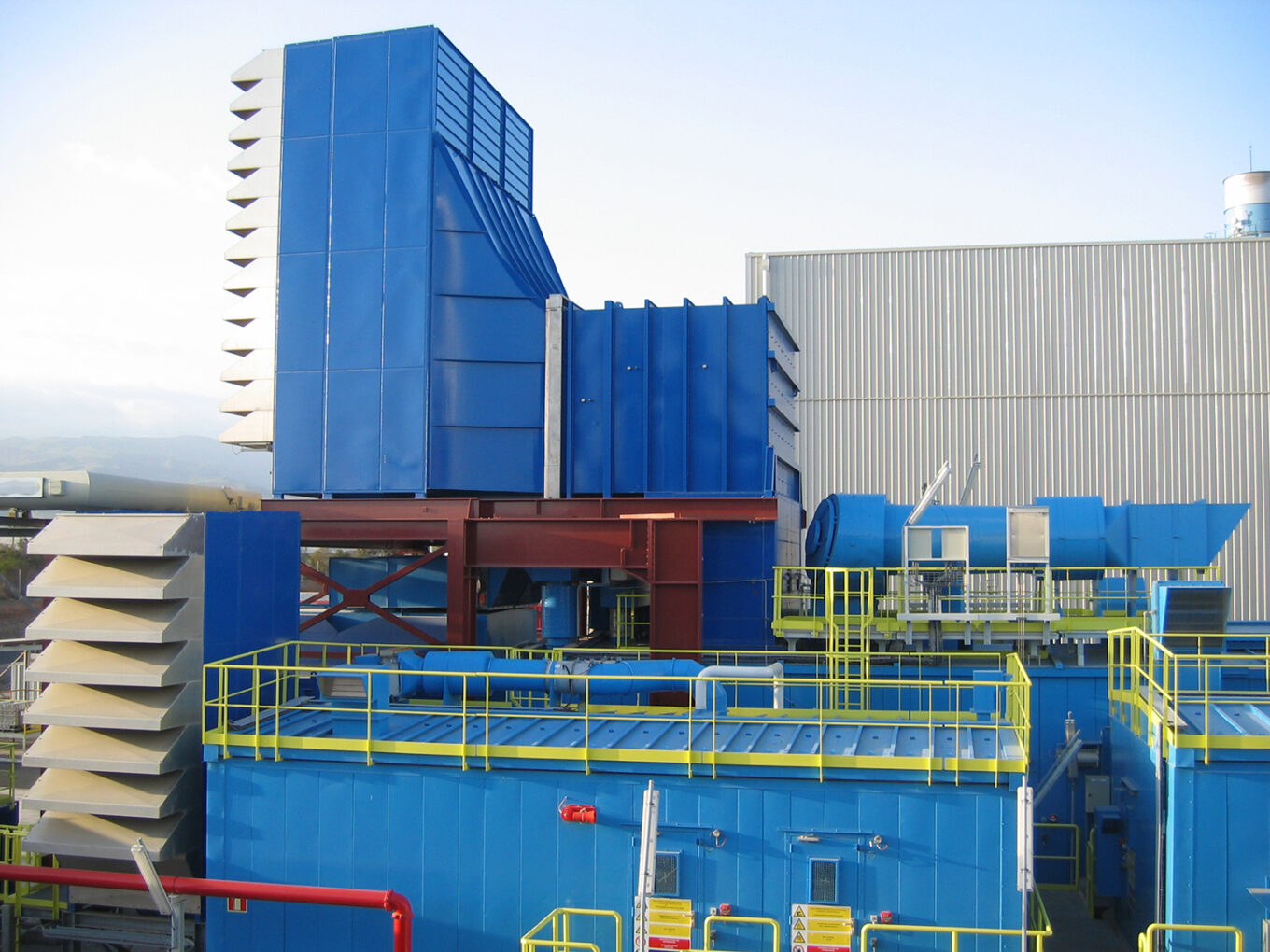 With over 40 years of experience in ventilated acoustic enclosure, SAI has been an innovative pioneer in designing soundproof ventilated technology for large machines up to 450MW.
Those machines required very large enclosures made of different components: a frame structure, roof and wall panels for acoustic treatment and a ventilation system allowing evacuation of gas pocket and calories in order to meet international norms. Such enclosures are delivered as a kit of elements assembled on site.
The different experts in acoustic, aeraulic and mechanical calculation work as a team to design a solution in order to obtain the performance for the noise level up to a acoustic pressure SPL of 65 dB (A) at 1 meter, the proper ventilation (natural or forced ventilation) following an in-depth CFD study. Additional factors are also impacting the design of the enclosure: ATEX environment, local site conditions (wind, seism …) for the design of the mechanical structure.
Multiple specific elements (lighting, fire detection, various sensors, hatches …) are fully integrated on request in a customized solution without deteriorating the overall acoustic performance.
With more than 1000 references, SAI experience is unrivaled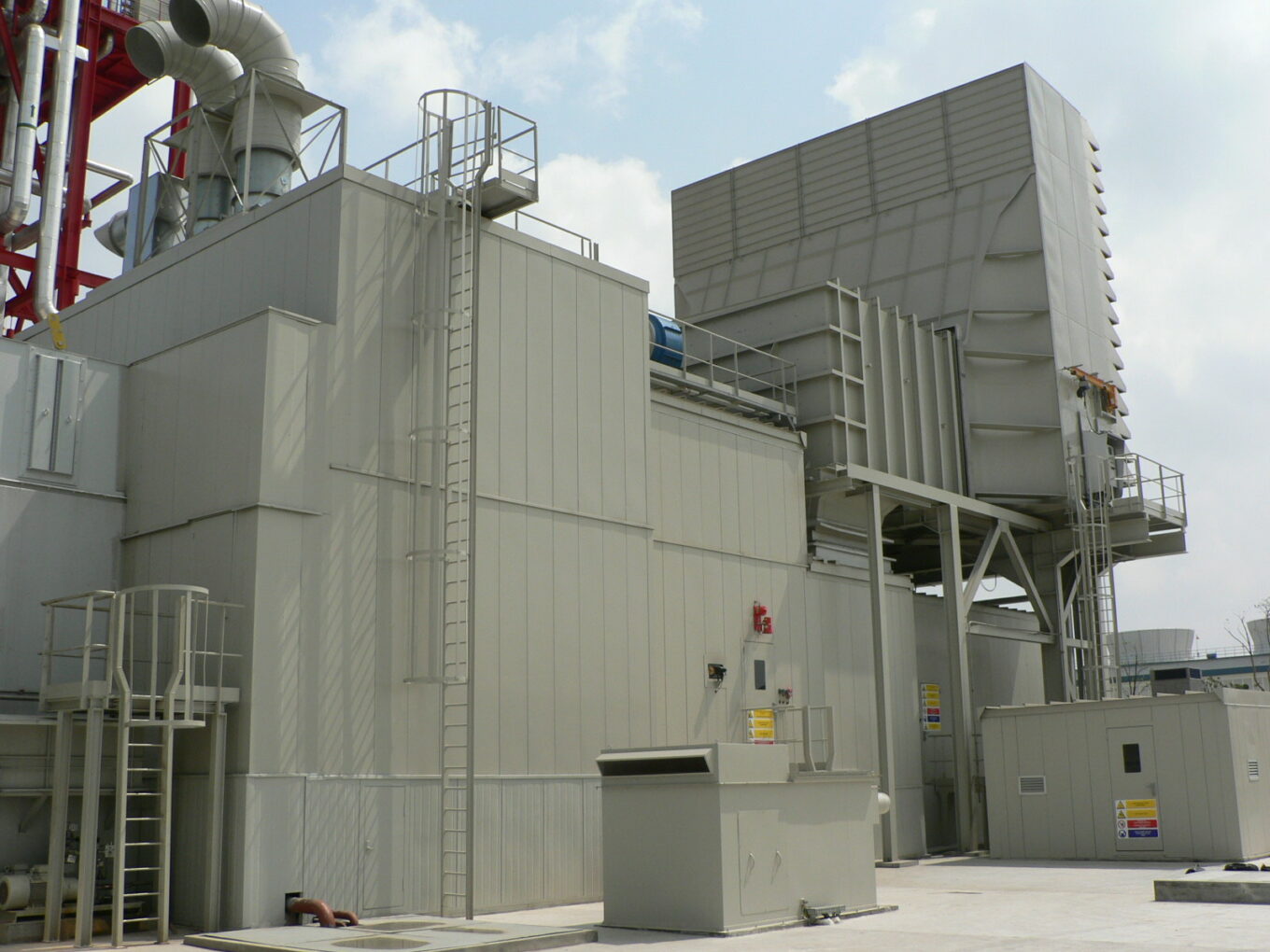 SAI ventilated enclosures are mainly designed for gas turbines, steam turbines, generators, gas or diesel engines, compressors, pumps … and associated modules such as gas module, water injection module, liquid fuel module, exhaust …
SAI engineers are familiar with the different constraints and requirement for such projects. There are able to build customized, reliable and efficient solutions to reach the expected performance.
A ventilated acoustic enclosure is in general composed of different elements:
A structural frame
Wall and roof panels for acoustic treatment and insulation supporting different types of equipment
A ventilation system.
An enclosure design by experienced engineers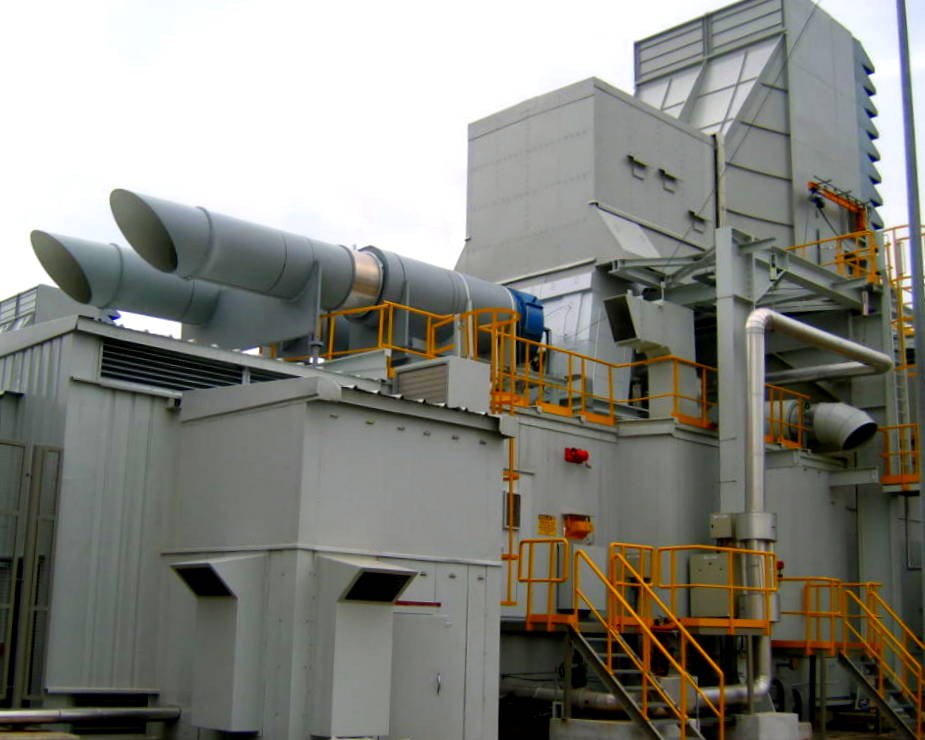 Besides the specifications related to the contractual performance, other factors are part of the design of our enclosures, in particular easy and safe installation of the equipment on site.
Design parameters are numerous. Among them:
Site and operational conditions following calculation codes (EUROCODES, BS, UBC, IBC, GB, IS, TS…) and manufacturing norms (EN1090, etc..)
Recommendations for floor anchoring
Constraints from the machine environment (cocoon, piping entries, interfaces…)
Openings to integrate lifting devices for maintenance work
Integration of various supports: walkways, panels cable trays, CO2 piping, electric boxes …
Surface treatment: hot dip galvanization or painting
Easy and fast assembly with bolted connections.
Noise reduction
After analyzing customer's specification and the required performance for noise reduction, SAI acoustic department prepare a detailed study with a complete modeling to select the most appropriate type of panels that will be used for the wall and the roof of the enclosure. A standard performance is a noise pressure level of 85 dB (A) at 1 meter from the enclosure. Depending on the site environment, more severe performance may be required with an objective of 80 or 70, even down to 65 dB (A) at 1 meter.
Performance of acoustic panels is validated via insertion test in situ or in laboratory. 3D mapping simulation software is used to estimate the noise impact around the facility of the installed machines.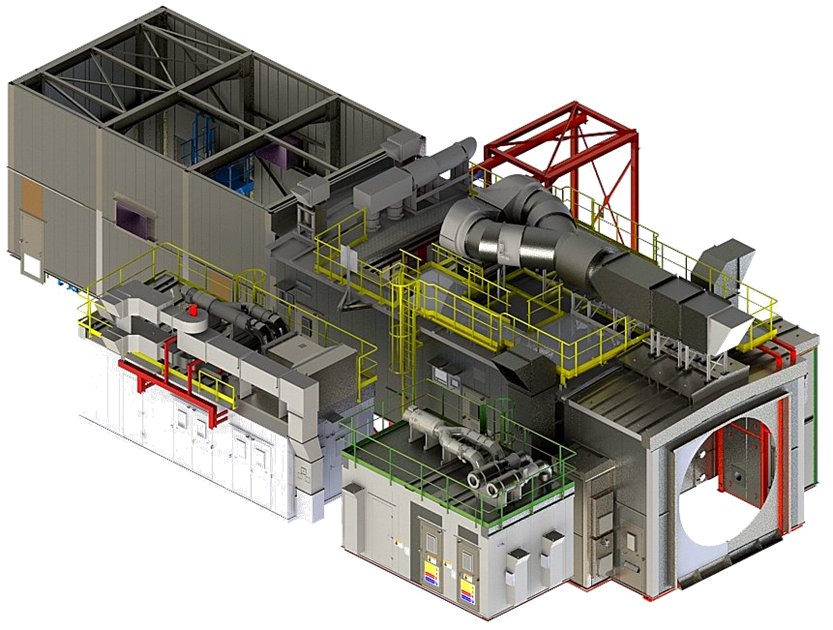 Pressurized enclosures
As a ventilation system is required, a low-pressured atmosphere is maintained inside the enclosure. Special care is made on the selection of joints used for each junction of the panels for the wall and roof to guarantee an optimal insulation and to avoid any acoustic leakage.
Customized enclosures
Options are available to address a variety of environment in which the machines will be installed. Maintenance work of the machines may also require specific arrangement to reduce the downtime of the machines.
As example for acoustic roof: indoor / outdoor, mono / double pent, with access constraints to the load on the roof: ventilation system, instrument panel, flow sensors…