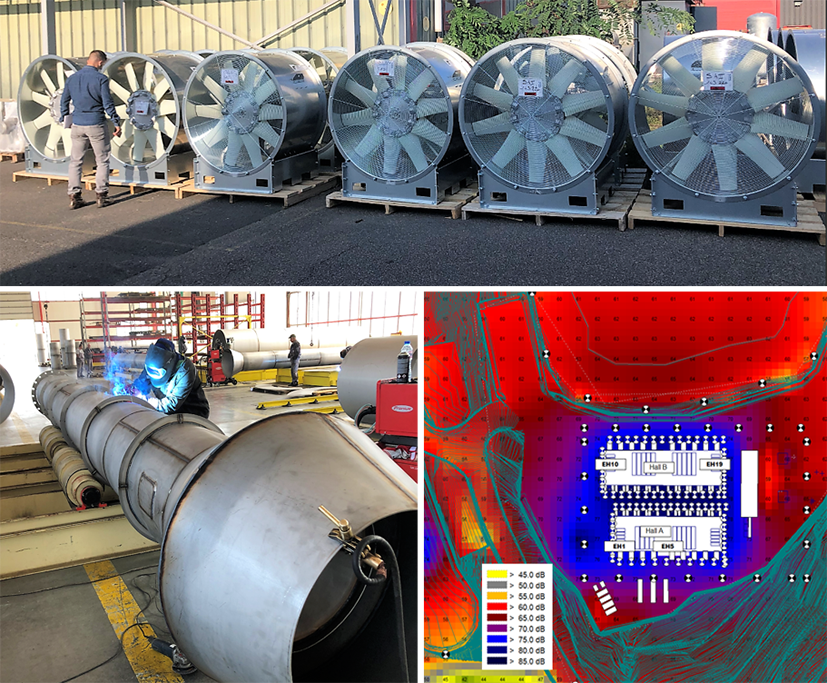 SAI has delivered in the end of 2020, beginning of 2021 the ventilation units & exhaust systems for a biogas power plant in Eastern Africa. This 56 MW power station is equipped with 19 gas engines.
On this unique site, there is an off-shore installation which will extract, separate and process methane gas, which is dissolved in the deep waters of a lake, and then deliver it to an on-shore generating facility where the gas will be used to generate electricity.
For this project, SAI has carried out an acoustic study with predictive noise mapping including the singular site topography. The power station is indeed located between a lake and a cliff. All the noise sources have been taken under consideration: ventilation units, coolers, transformers, noise emitted trough the building walls & ceilings…
Thanks to the results of this acoustic study, we were able to help our customer to select the right building acoustic cladding to ensure the requested acoustic performances. We also had to design specific exhaust reactive silencer with over 45 dB(A) noise reduction to be able to meet the acoustic target of 65 dB(A) at 10 meters from the equipment.
Since it's a biogas power plant, it was decided to have the complete exhaust lines to be produced in 316L stainless steel to prevent from any corrosion by the lifespan of the plant. Exhaust pipes have been delivered with heat insulation kits to prevent from heat dissipation inside of the engine hall.
Extensive CFD studies have confirmed the need of large ventilation units to prevent from too high temperature rise inside of the engine hall building. SAI supplied 19 ventilations sets of 135 000 m3/h each. Total airflow exceeds the 2,5 millions cubic meter per hour!
On the air outlet side, SAI has delivered acoustic grids with deflectors that are used to prevent hot air to be sucked-in again by the ventilation units located next to the engine air intake systems.