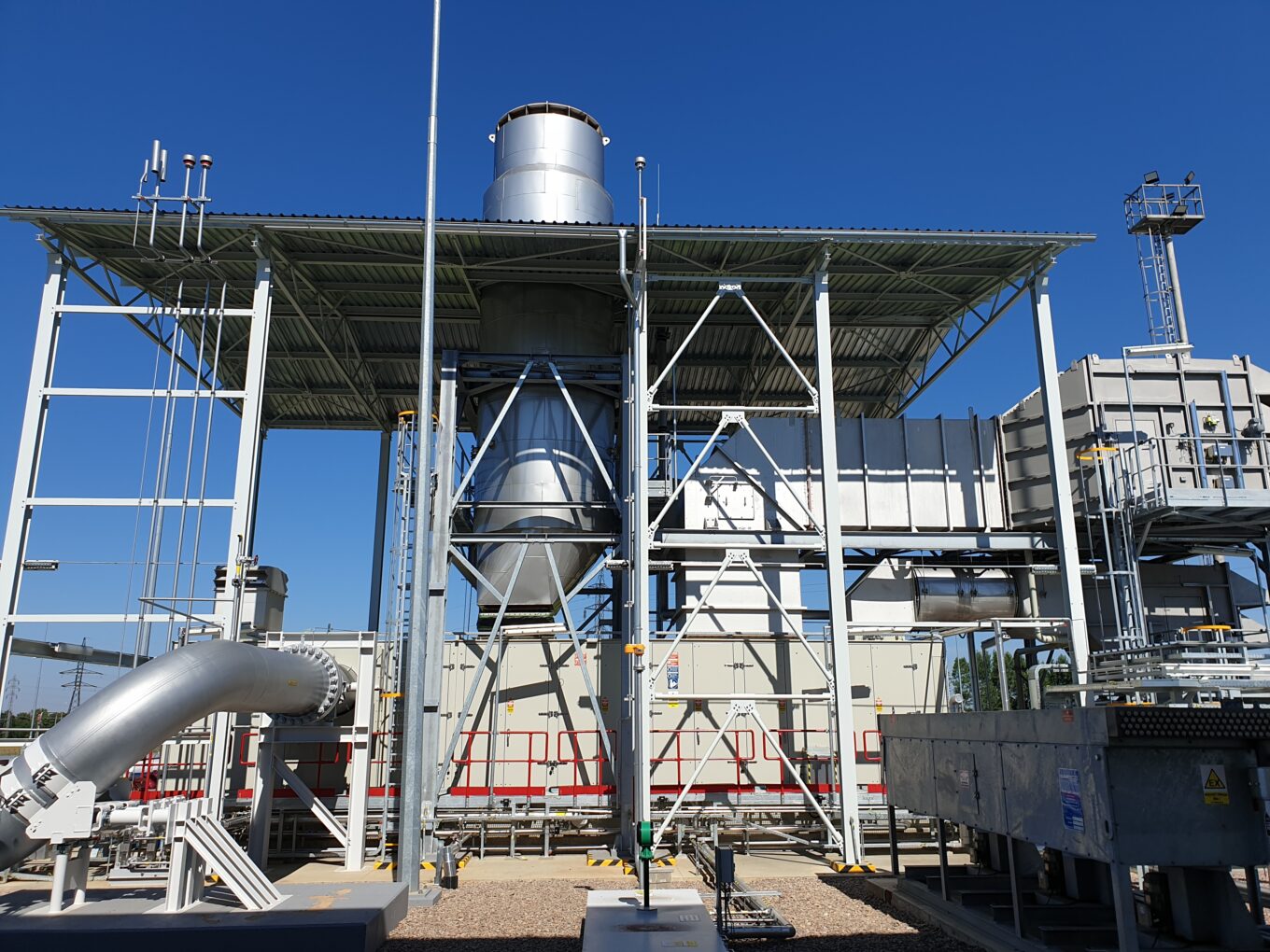 More than 300 complete exhaust systems have been designed, fabricated and installed over 5 continents by SAI demonstrating the experience of the company in this domain.
For more than 20 years, SAI has designed and fabricated exhaust systems for gas turbines and thermal engines. Exhaust silencers serve a two-fold purpose: to reduce important noise level and to reduce the atmospheric pollution generated by the exhaust gas in a context of tougher environmental regulation.
The nature and the characteristics of the exhaust gas are important information for the selection of the type of material to be used. Operational conditions are severe with high temperature, up to 650°C and flow rate above 3000 m3/sec.
SAI is a reputable supplier to the main manufacturers of gas turbines and thermal engines for various applications: electrical power plant, oil & gas industry, refineries, gas compression stations, …
Severe constraints impacting the selection of material and components.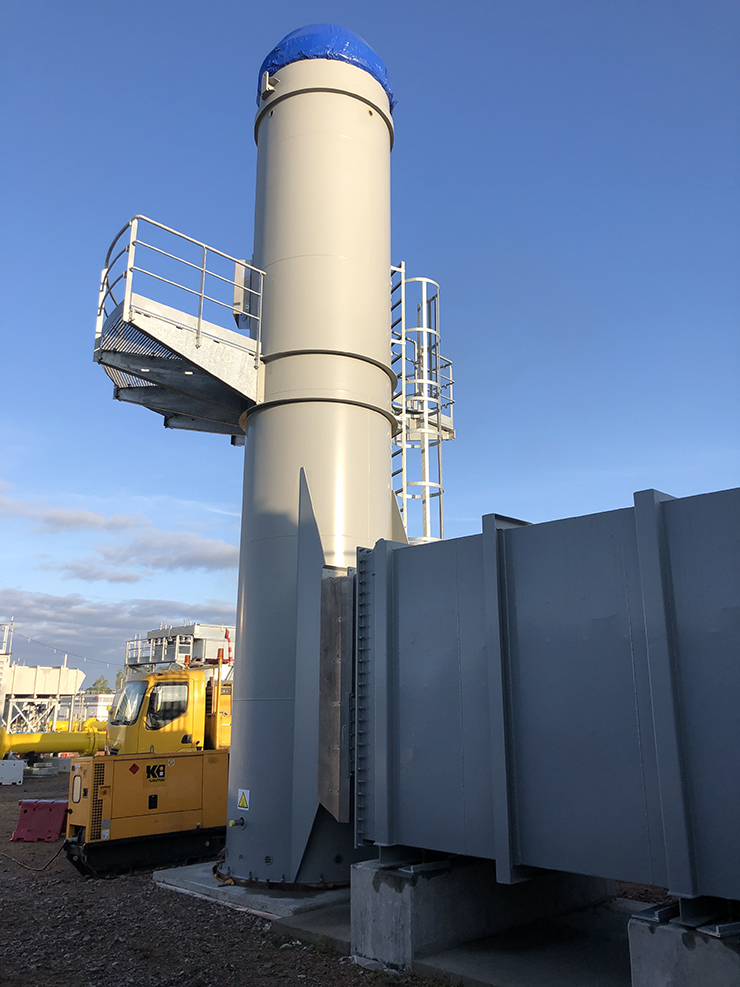 Exhaust systems by SAI are designed with:
A cylindrical shape (usually for thermal engines) with both passive and dissipative noise reduction solution.
A rectangular shape with parallel baffles (usually for gas turbines) with a dissipative solution.
The exhaust sound power level is generally related to the engine or turbine power. An exhaust system is comprised of several components:
The sound power level for the design of exhausts is usually related to the power of the engine or turbine. An exhaust system can include :
A silencer
A duct system
An exhaust
A steel structure
A compensator or more than one
a CO catalyst
Accessories: platforms, ladders, protection against lightening, aircraft hazard warning lights, temperature sensor, etc…
All the components are designed by taking into account the characteristics of the turbulent exhaust gas generated by a gas turbines or an engine: high temperature (up to 650°C), high pressure and important speed gradient creating severe thermo-mechanical constraints.

---
Examples of exhaust system supplied and installed by SAI.
---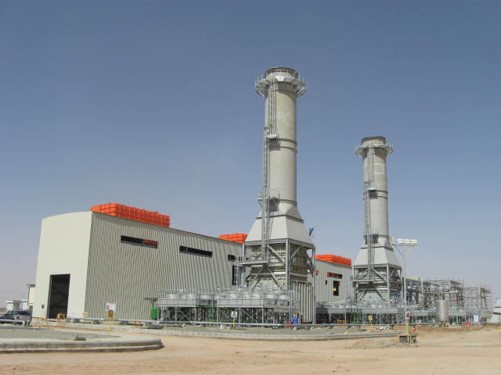 SAI supplied 20 exhaust stack systems for 80 MW gas turbines in Saudi Arabia on 5 different sites operated by SEC (Saudi Electricity Company). Their main characteristics are 50 meters high, 5 meters in diameter with a weight of 300 tons.
The chimneys are mounted with stainless steel baffle type silencers providing an acceptable noise level in the nearby-populated area.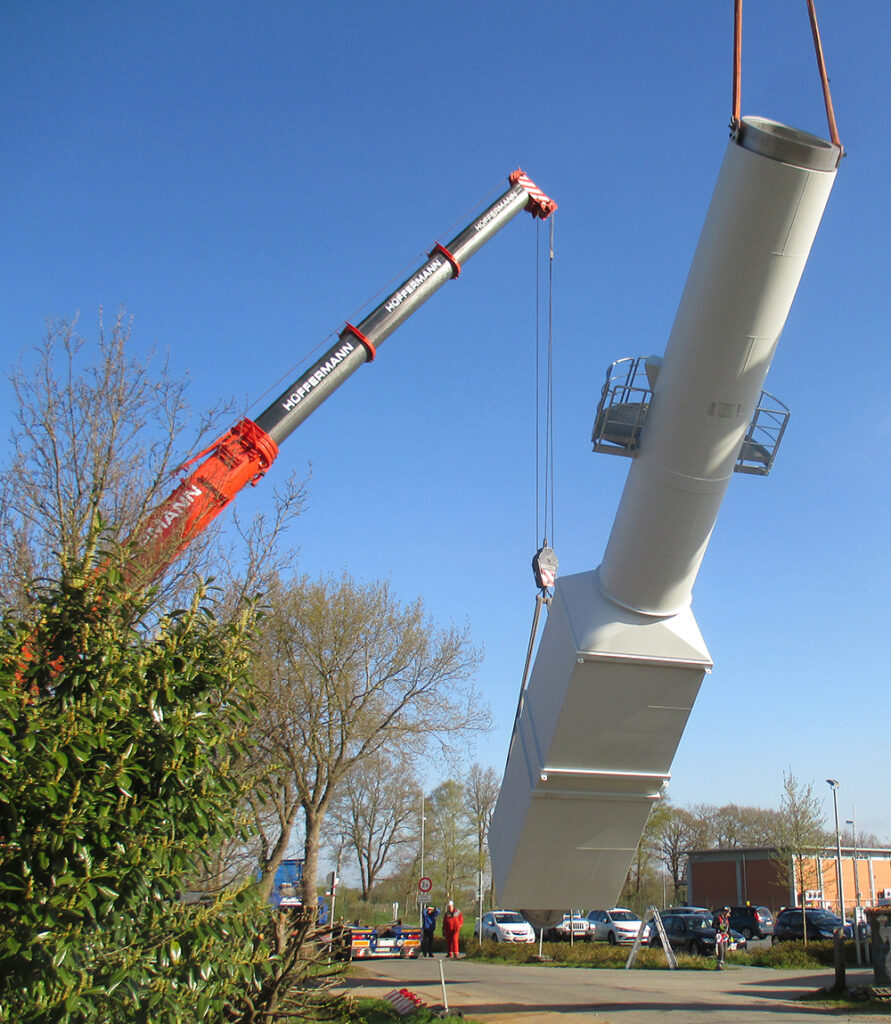 SAI also supplied more than 120 complete package including exhaust system to equip gas turbines between 6 and 15 MW for gas compression stations in Europe and Middle East
These exhaust systems include the gas inlet pipe, muffler, supporting structure and compensators. The exhaust stack and silencer can be fully assembled at the factory and mounted on site quickly and as one piece, including cladding and decks.