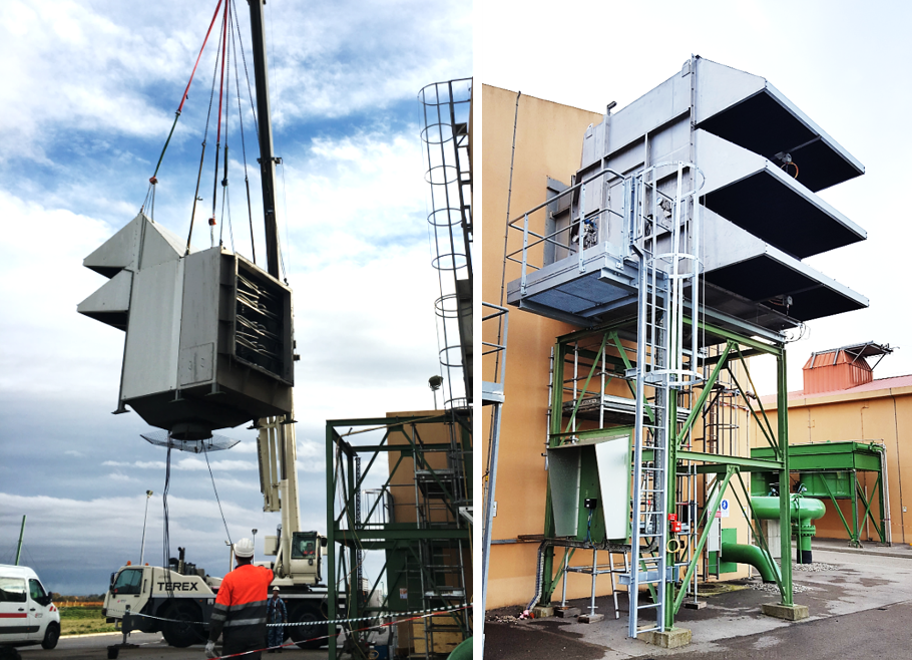 On a gas compressor station in Southern-western France, SAI got awarded a key-in-hand project for the complete replacement of 2 old self-cleaning combustion air intake filter casings by 2 new static filter casings. Beside the engineering and manufacturing of the combustion air intake filter house, our scope of work also included the dismantling of old filter casings, installation on site of the new units & commissioning on site. This project was carried out with a very tight schedule both for the engineering, manufacturing & for the installation on site.
Operators were facing issues with the original filter casings including lack of airtightness on the clean airside leading to compressor fouling. Moreover, the initial installation didn't have any accesses to ensure the preventive maintenance and filter element change-out. Operator had to use a specific handling equipment to access to the filtration plenum.
Together with the filter casing, SAI also supplied the instrumentation, electrical package and an adaptation kit to fit to the existing steel structure. To facilitate the maintenance of the filter elements, we included in our supply a safety caged access ladder & a maintenance platform.
With this complete filter casing replacement, it has been possible to improve the filtration efficiency. Thanks to the final high efficiency filters, we are able to prevent from compressor fouling. To protect the last filter barrier, the filter casings are equipped with different filtration stages:
1st  stage:   Weather hoods (equipped with drift eliminators)
2nd stage:   Rigid pocket filters (M6 efficiency according to EN 779:2012)
3rd stage:  Mini-pleat filters (F9 efficiency according to EN 779:2012)
4th stage:   Mini-pleat filters (E12 efficiency according to EN 1882)